Services Offered
Has a recent storm left your home in need of new roof installation? Is it finally time to install gutters at your office? Are you interested in updating your property with a brand-new metal roof? For these and other exterior property improvement needs, you can always turn to Allen Roofing & Siding Company, Inc. Serving the Albany area and the Capital District, we're the roofing contractors you can depend on for top-of-the-line service and reliable results. From shingle roofing to seamless gutter installation, we're your one-stop shop for improvements to the exterior of your residential or commercial space. Get in touch with us today for your free estimate!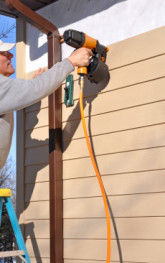 Call on Allen Roofing & Siding Company, Inc. for:
Roof installation
Roof replacement
Roof repair service
House siding
Seamless gutter installation
And more!
For projects large and small, we're the roofing contractors who always offer you great value and service. Our goal is to provide you with high-quality roof installation, house siding, and seamless gutter installation services that you can count on. When we perform work at your home or place of business, we'll be sure to remove any old roofing or siding materials that we replace, and we'll take great care to ensure that your property doesn't suffer damage in the process.
Comprehensive Warranties
At Allen Roofing & Siding Company, Inc., we want you to have complete confidence in the services we provide. That's why we offer comprehensive warranties for every project we complete. Whether you hire us for roof repair service or roof replacement, you'll benefit from a lifetime product warranty and a seven-year workmanship warranty.
Great Pricing for Roof Installation and Repair
When you're facing the prospect of putting a new roof on your home or office, cost is likely to weigh on your mind. Fortunately, when you work with the bonded and insured roofing pros at Allen Roofing & Siding Company, Inc., you don't have to worry about stretching your budget too thin. We're proud to offer some of the most affordable roofing services in the Albany area, so there's no need for you to panic about roofing or siding issues causing financial troubles in your personal or business budget. Our technicians are available for regularly scheduled appointments and emergency services, so call us today to get started on your next roofing or siding project!